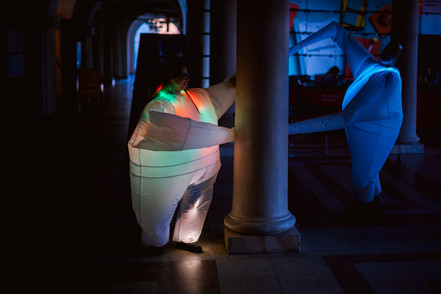 This year, IDU is involved in the following projects supported by EU programmes. The projects CREATE TO CONNECT -> CREATE TO IMPACT, HEMI and Active CITY(zens) are supported by the EU's Creative Europe Culture programme.
Projects supported by the EU's Creative Europe Culture programme
CREATE TO CONNECT -> CREATE TO IMPACT 2018–⁠2023
Lead organisation: Bunker (Slovenia)

Partners: Artsadmin (United Kingdom), AltArt (Croatia), BIT Teatergarasjen (Norway), La Villette (France), Noorderzon Groningen (Netherlands), Theater Rotterdam (Netherlands), ATI –⁠ Department of International Cooperation (Czech Republic), Culturgest Research Centre of the Slovenian Academy of Sciences and Arts (Slovenia), Drugo More (Croatia), Santarcangelo dei Teatri (IT), NTGent (Belgium), Public Art Platform (Georgia), United Artist Labour (Serbia), Hammana Artist House (Lebanon).
Description: "Can theatre help to change the world? The biggest mistake is to do nothing because of the belief that we cannot achieve everything. It's possible to positively impact the art of research - and that is something, at least!"
As part of the previous Create to Connect project, 15 European arts and research partners from 13 European countries collaborated on research around contemporary theatre in order to inform aesthetic, political and social action in the form of social innovation, micro-political changes, articulation of new public interests, aesthetic breakthroughs and emancipation.
The project is now moving on from building audiences to influencing stakeholders, from mere connection and engagement to conscious building of influence based on anthropological research. Partners are developing relationships that are based not on power structures, but on cooperation and solidarity. All steps are planned and prepared in collaboration with curators, artists and researchers.
HEMI (The Hub for the Exchange of Music Innovation)
Lead organisation: Technopolis City of Athens (Greece)
Partners: Asociatia Romanian Artists Worldwide (Romania), Dunagentsys Kereskedelmi Es Szolgaltato Korlatolt Felelossegu Tarsasag (Hungary), Foundation Exit (Serbia), Fundacja Krakowska Scena Muzyczna (Poland), IDU –⁠ Soundczech (Czech Republic), Krakowskie Biuro Festiwalowe (Poland), Mittetulundusuhing Music Estonia (Estonia), Password Production Doo Skopje (North Macedonia), Sigic - Slovenski Glasbenoinformacijski Center (Slovenia)
Description: The project includes ten partner organisations from ten Eastern European countries from the Baltic to the Balkans. The range of participating organisations is diverse, including public and private organisations, associations, festivals, event agencies, export offices and schools. The project's goal over the next four years is to strengthen and increase the visibility of the music industry in the CSEE region through programs for musicians and professionals, information portals and participation in European music events.
Lead organisation: ESNS (Netherlands)
Partners: The Euroradio, The Centre national de la musique (France), Gre.ex Music (Greece), Institut Català de les Empreses Culturals (Spain), Initiative Musik (Germany), Italia Music Export (Italy), Kultur | LX (Luxembourg), LaLa Slovak Music Export (Slovakia), Lithuanian Music Business Association (Lithuania), Austrian Music Export – Music Information Center Austria (Austria), Music Estonia (Estonia), Music Finland (Finland), First Music Contact (Ireland), Music Norway (Norway), Music Export Denmark (Denmark), PRS Foundation (United Kingdom), Sena (Netherland), SIGIC – Slovenian Music Information Centre (Slovenia), Swiss Music Export (Switzerland), SoundCzech (Czech Republic), VI.BE (Belgium), WBM - Wallonie-Bruxeles Musiques (Belgium), Why Portugal? (Portugal), YOUROPE
Popis: ESNS Exchange is Creative Europe's programme raising circulation of new music artists.
Lead organisation: Internationales Theaterinstitut e.V. (Berlín, Německo)
Partners: Pro Progressione (Hungary), Bodo 2024 (Norway), Bad Ischl – Salzkammergut 2024 (Austria), Nacionalinis Kauno dramos teatras (Lithuania), Hrvatsko narodno kazalište Ivana pl. Zajca u Rijeci (Croatia), Art Transparent (Poland), Arts and Theatre Institute (Czech Republic), On the Move (Belgium), Goethe-Institut e.V. (Germany), Inštitut za transmedijski dizajn (Slovenia), Slovinsko, Culture Funding Watch (Tunisia)
Description: The DECONFINING project aims to create new, equal cultural ties between Europe and Africa by developing a sustainable reference cooperation model to be later extended further to other regions of the world. Building on the close collaboration between the two continents and the integration of their Capitals of Culture programmes, the project will bring together cultural practitioners, policymakers, performing, media/visual artists, in-field universities and audiences from both continents to explore and demonstrate new ways of intercontinental artistic and cultural (policy) cooperation and to contribute to a better understanding of confinement patterns from different points of view in an intercontinental perspective. All this in order to break free from paternalistic and colonial views in favor of a strong participatory attitude and to provide better access and information for intercontinental mobility and transnational co-creation.
The project is designed and led by 12 partners from 11 European and one African country, and will feature 4 forums, 4 micro-conferences, a mobility platform, an interactive policy toolkit, a DECONFINING anthology ebook, newly created artworks including performances, installations, 20 podcast episodes presenting (tandem) artistic practices, 12 art tours and a rich open digital archive.
Active CITY(zens) 2023-2024
Lead organisation: Arts and Theatre Institute
Partners: KUNSTrePublik /ZKU (Germany), Faculty of things that can't be learned/FRU (North Macedonia), IZOLYATSIA. Platform for Cultural Initiatives (Ukraine)
Description: The aim of this project is to develop new tools to connect with the viewer, which will then help raise awareness of new artistic projects about preserving cultural heritage in transforming urban areas. All the interested partners are of strong significance to local communities, cooperating with said communities, experts, and local authorities. During this project, the ambassadors of the partnering organisations will work together to prepare and test new prototypes of tools for audience development. Eventually, the researched and developed methodology will be processed and published in a study.