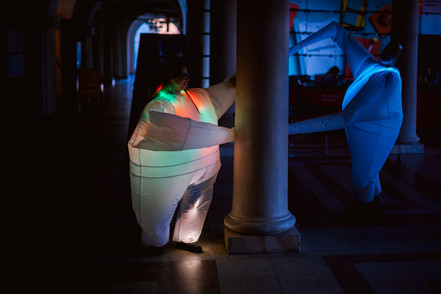 In 2020, IDU is involved in the following projects supported by EU programmes. The projects ASSET, CREATE TO CONNECT -> CREATE TO IMPACT, EMERGENCE, HEMI and RESHAPE are supported by the EU's Creative Europe Culture programme. The CANON OF TECHNICAL THEATRE HISTORY is supported by the EU's educational programme Erasmus+.
Projects supported by the EU's Creative Europe Culture programme

ASSET (Audience Segmentation System in European Theatres) 2018–⁠2021
Lead organisation: The Department of Arts Management / Academy of Performing Arts in Prague, Czech Republic
Partners: The Audience Agency (United Kingdom), ATI –⁠ Department of International Cooperation (Czech Republic), Narodno sveuciliste Dubrava (Croatia), IG Kultur Österreich (Austria), Arts Project Foundation (Bulgaria), Metropolia University (Finland).
Description: A study of segmentation in the theatre-going public, the ASSET project aims to develop and test tools and approaches for audience research, which can then be offered to European theatres and performing arts organisation as a means of diversifying and deepening relationships with the public. The project outputs will also help to shape artistic programming and marketing to support audience development with the help of European Theatre Night and similar projects that share this aim.
CREATE TO CONNECT -> CREATE TO IMPACT 2018–⁠2023
Lead organisation: Bunker (Slovenia)

Partners: Artsadmin (United Kingdom), AltArt (Croatia), BIT Teatergarasjen (Norway), La Villette (France), Noorderzon Groningen (Netherlands), Theater Rotterdam (Netherlands), ATI –⁠ Department of International Cooperation (Czech Republic), Culturgest Research Centre of the Slovenian Academy of Sciences and Arts (Slovenia), Drugo More (Croatia), Santarcangelo dei Teatri (IT), NTGent (Belgium), Public Art Platform (Georgia), United Artist Labour (Serbia), Hammana Artist House (Lebanon).
Description: "Can theatre help to change the world? The biggest mistake is to do nothing because of the belief that we cannot achieve everything. It's possible to positively impact the art of research - and that is something, at least!"
As part of the previous Create to Connect project, 15 European arts and research partners from 13 European countries collaborated on research around contemporary theatre in order to inform aesthetic, political and social action in the form of social innovation, micro-political changes, articulation of new public interests, aesthetic breakthroughs and emancipation.
The project is now moving on from building audiences to influencing stakeholders, from mere connection and engagement to conscious building of influence based on anthropological research. Partners are developing relationships that are based not on power structures, but on cooperation and solidarity. All steps are planned and prepared in collaboration with curators, artists and researchers.
EMERGENCE: From shared experience to new creativity. Living Heritage/Reframing Memory. 2018–⁠2020
Lead organisation: ATI –⁠ Prague Quadrennial
Partners: The Victoria & Albert Museum (United Kingdom), IZOLYATSIA (Ukraine), Instytut Teatralny im. Zbigniewa Raszewskiego (Poland), Cyprus Theatre Organisation / THOC (Cyprus), Norwegian Theatre Academy / Østfold University College (Norway), New Theatre Institute of Latvia (Latvia), National Kaohsiung Center for the Arts (Taiwan)
Description: The project focuses on scenography in the context of European heritage, fostering connections between scenographers who respond to the cultural and political conditions of selected territories. The project includes workshops and masterclasses, artistic residencies, site-specific performances and exhibitions. The project takes into account the collective memory of selected monuments that encourage strong experiences and reveal our historical heritage as an evolving process of constant negotiation and interconnection in today's globalised world. The project also supports the development of a new generation of scenographers. Activities are designed to connect young artists with experienced professionals and to create environments for emerging artists. Project participants experience the atmosphere of places with "porous borders" - from Nicosia, a city divided by militarised borders, to the charged zone between Ukraine and Russia, to the problematic space of Brexit.
HEMI (The Hub for the Exchange of Music Innovation)
Lead organisation: Technopolis City of Athens (Greece)
Partners: Asociatia Romanian Artists Worldwide (Romania), Dunagentsys Kereskedelmi Es Szolgaltato Korlatolt Felelossegu Tarsasag (Hungary), Foundation Exit (Serbia), Fundacja Krakowska Scena Muzyczna (Poland), IDU –⁠ Soundczech (Czech Republic), Krakowskie Biuro Festiwalowe (Poland), Mittetulundusuhing Music Estonia (Estonia), Password Production Doo Skopje (North Macedonia), Sigic - Slovenski Glasbenoinformacijski Center (Slovenia)
Description: The project includes ten partner organisations from ten Eastern European countries from the Baltic to the Balkans. The range of participating organisations is diverse, including public and private organisations, associations, festivals, event agencies, export offices and schools. The project's goal over the next four years is to strengthen and increase the visibility of the music industry in the CSEE region through programs for musicians and professionals, information portals and participation in European music events.
RESHAPE – REFLECT, SHARE, PRACTICE, EXPERIMENT 2018–⁠2021
Lead organisation: ONDA (Paris, FR)
Partners: ACT "Association for Independent Theatre – association of freelance professional theatre group" (Bugaria), Alt Art (Romania), Artemrede (Portugal), ATI –⁠ Department of International Cooperation (Czech Republic), British Council (United Kingdom), Bunker (Slovenia), East European Performing Arts Platform (Poland), Flanders Arts Institute (Netherlands), Goethe-Institut Barcelona (Germany), Onassis Foundation & Onassis AiR (Greece), Onda — French office for contemporary performing arts circulation (France), Pogon — Zagreb Centre for Independent Culture and Youth (Croatia), Pro Helvetia (Switzerland)
Description: RESHAPE is a platform for intermediary arts organisations that support the development of the arts sector in their countries or regions. The RESHAPE network aims to present alternatives to the European arts ecosystem and to re-evaluate its tools and models of collaboration, which should be on an equal footing with artistic and social innovation and informed by principles of fairness, solidarity, geographic balance and sustainability.
RESHAPE also aims to develop and test an experimental method for creating new narratives and tools based on the "bottom-up" approach, which corresponds to the development of the arts sector and society. Through intermediary organisations with increased awareness and greater capacity and responsiveness, RESHAPE wants to influence public policy and offer tools for the future.
Project supported by the EU's ERASMUS+ programme
CANON OF TECHNICAL THEATRE HISTORY 2019 – 2022
Lead organisation: Erasmushogeschool Brussel (Belgium)
Partners: Beuth-Hochschule (Germany), Stockholms konstnärliga högskola (Sweden), Universitat Politecnica de Catalunya (Spain), Real Escuela Superior de Arte Dramático (Spain), ATI –⁠ Prague Quadrennial (Czech Republic), Rose Bruford College of Theatre and Performance (United Kingdom), Accademia di Belle Arti si L´Aquila (Italy), Institut del Teatre (Spain)
Description: The project supports nine European universities and research organisations dealing with the history of theatre. During the research portions of the project, tools and methods from disciplines such as art history, engineering, scenography, architecture and theatre studies will be used. The aim is the development of a practical methodology to help to preserve and deepen knowledge of the technical history of theatre with a view to its use in higher education.