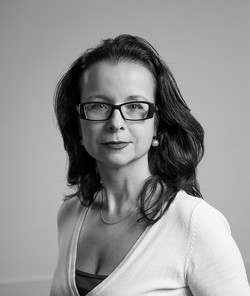 Name and surname: Lucie Čepcová
Degree: Mgr.
Department: Information and Documentation Department
Email: lucie.cepcova@idu.cz
Telephone: +420 224 809 197
Lucie Čepcová is a theatre researcher and documentarist in Czech professional theatre after 1945. Since 1997 she has worked at the Information and Documentation Department, ATI. She is also an editor.
Education
1997 Master's Degree, Faculty of Arts, Charles University in Prague (Theatre Studies)
Professional résumé
1997 – 2015 Information and Documentation Department, administrator of personal data and production funds

2015 – present, Information and Documentation Department, head, administrator of the database of premieres

Specialized and research activity
The Handbook of Václav Havel's Dramas (the list of productions of Václav Havel's plays, list of Czech and international editions of author's plays, the set of bibliographic records about dramatic titles and the complete list of Havel's dramatic works) – commissioned by the Václav Havel Library, co-author Lenka Jungmannová (Institute of Czech Literature, Czech Academy of Sciences), (2014)
Editor of the Prague Quadrennial catalogues 2007, 2011, 2015, 2019

Editor of texts for the exhibition Theatre and Freedom: First Decade of Czech Theatre Independence after 1989 (2019)

Conferences
Papers at international conferences in the Czech Republic and abroad, e.g. associated with the ATI project Oral History of Czech Theatre at the 6th International Conference of Czech Association of Oral History, Olomouc (2019) and the symposium of Oral History and Contemporary Technology (organized by the National Film Archive and Institute of Contemporary History, Czech Academy of Sciences, and Institute of Formal and Applied Linguistics, Faculty of Mathematics and Physics, Charles University as an output of the research project NAKI II Virtual Assistant for Access to Historical Audiovisual Data), Prague (2019).
As far as other countries are concerned, she has presented ATI databases and funds at Országos Színháztörténeti Múzeum és Intézet in Budapest (2012), at ENICPA conference in Helsinki (2015), preparations of the project Passage 23°E, Berlin (2016).
Reaserch grants
Productions of Antique Playwright on Czech Stages 1889–2000, Centre for Classical Studies, Czech Academy of Sciences, 1998–2000 (grant co-investigator).